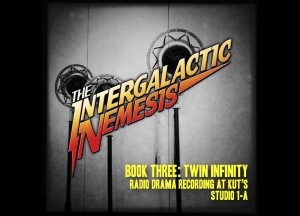 In 1996, Ray Colgan approached me about creating, performing, and recording a sci-fi radio play in the coffeehouse he worked in. I had just founded Salvage Vanguard Theater, a company devoted to the development and production of new plays, so it seemed like a no-brainer. Being a huge fan of Star Wars and Raiders… of course was a huge part of the decision and, thus, The Intergalactic Nemesis was born.
Since then the project has gone through a bunch of evolution, most importantly, when we added comic-book artwork (by Tim Doyle) to the performance experience and christened the Live-Action Graphic Novel in 2010. Starting this month, we begin a world tour that takes us as far West asHawaii, as far East as Scotland, and includes a week at the Kennedy Center, two weeks on Broadway (next to the theatre in which Spider Man: Turn off the Dark is playing), and the world-renowned Spoleto Festival USA. To say it's a dream-come-true would be an understatement.
Last year, we premiered a sequel, entitled Robot Planet Rising, and all along I've known that it would become a trilogy. The path to creating the third and final chapter of The Intergalactic Nemesis is upon us and once again it starts with a radio play.
Welcome to The Intergalactic Nemesis – Book Three: Twin Infinity!
This script is a revision of the script that Ray Colgan, Chad Nichols, and I wrote in 2005, when I had no idea what the scale of the project would become. It was this script that inspired me to revisit the roots of the project and revamp the earlier chapters. In fact, that script was so strong, it put the others to shame and they had to be completely rewritten! Even though we performed it in 2005, we never recorded it. Now that the first two chapters have been finished, I've gone back to Twin Infinity and updated it to match the new Books One and Two and I'm really happy with the result. Even more, I'm thrilled to announce that KUT (Austin's NPR affiliate) has invited us to finally record that script in their brand-new Studio 1-A, which not only has state-of-the-art recording capabilities, but also has room for a 70-person audience.
People who pledge $100 or more to this campaign can be part of the history of the project. You and a friend will be our guests at the recording. Your response will be recorded for all time, broadcast on KUT and other NPR stations around the country, and made available on CD to anyone who is interested. But even a $15 pledge will get you a credit on the CD for having helped produce it.
All the money from this campaign goes towards paying the actors (Chris Gibson and Danu Uribe), composer Graham Reynolds, Foley maestroBuzz Moran, and stage manager Jessie Douglas for their work rehearsing and recording Twin Infinity. I'm going to be acting in it, too, which I can't wait for.
This performance and recording officially launches us on the path to premiere the Live-Action Graphic Novel version of Twin Infinity in 2014 with artwork by David Hutchison (Robot Planet Rising). Thanks so much for taking the time to read this and for pledging to help complete this epic adventure of creating The Intergalactic Nemesis.
Click HERE to join us on Kickstarter!