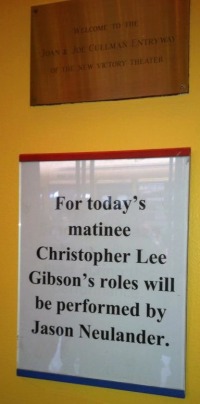 It has been an incredible couple of weeks. Once the nightmare of our housing situation got resolved, we all settled into our two-week run at the New Victory Theatre on Broadway. Jessie, Danu, and Cami all repeatedly told me that the gig has been a dream-come-true for them. And for me, too. Particularly today, when I actually got to perform in the show. Walking out of the stage door onto Times Square after the performance this afternoon was a real rush. I was like, wow, this really just happened. A dream I've had since I was 9 years old and saw Sandy Duncan perform on Broadway as Peter Pan.
The reviews have been killer as well, which has been really nice. You just never know in this city. The New York Post was the only paper of record to come, but we had a bunch of bloggers and they all seemed to love it:
"Pure genius!" –Be Your Best Mom
"Filled with excitement, peril, wit and imagination!" –Woman About Town
"A great grown-up nerd date night." –Mommy Poppins
"Unbelievably talented performers." –Macaroni Kid
"Unlike anything I have ever seen (in a good way!)" –Motherhood Later
"Great fun! [A] happily retro multimedia extravaganza!" –The New York Post
Huge shout out to my entire team: Jessie, Agustin, Chris, Kenny, Danu, Cami, Higgins, Ollie, you guys killed it. So incredibly proud of all of you. And to my incredible writing partner Chad Nichols, thanks for writing this with me. Jessica Reisman, thanks for being a part of the original writing team (and you, too, Lisa D'Amour and Julia Edwards!). And to Ray Colgan for coming up with the idea to do a sci-fi radio show at Little City Coffeehouse all those years ago, thank you, too!
Our next stop is Calgary, Canada, then home for a week or so, then West Palm Beach FL, Edinburgh, Scotland, and then the Kennedy Center in DC. Complete tour schedule HERE.
Oh yeah, we come back next year to the New Vic for Book Two: Robot Planet Rising. Incredible!