Two galaxies collided about a month ago when I met Graham Howes at the Western Arts Alliance conference in Denver CO last month. I had set up a booth and was trying to garner interest from venues in the Western states and Canada for our 2013-14 tour (yes this stuff gets planned this far in advance).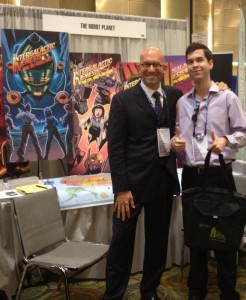 Things were going along well, when suddenly this guy walks up to me and says, "you're here!" I'm not exactly sure what he's talking about but he continues: "You're Jason Neulander, right?" I said I was and he says that he's a huge fan of the show and when are we coming to San Francisco? I say that there's actually a chance we'll come to Berkeley next season and he tells me that he's a regular listener to the League of Extremely Ordinary Gentlemen podcast and that I'm one of his favorite guests on that show. I'm having trouble believing my ears when he asks if we can take a picture together (left). How friggin' cool is that? A fan at one of these professional conferences. Totally unexpected. Totally awesome. Thanks for making my month, Graham!!
At these booking conferences, artists and agents set up booths while venue representatives go shopping for their future seasons of programming. At the WAA conference (Sept. 4-9) we got a ton of interest in California, which I'm hopeful will lead to a multi-week tour of that state. I think there's also a very good chance we'll be in Vancouver and Alberta, Canada, next season, too, all from that conference.
The next week was the Midwest Arts Conference, which is my bread-and-butter. We got a literal shit-ton of interest there for the 2013-14 season. I'm now talking with more than 40 venues about bringing either the original for the first time or returning with Robot Planet Rising. Several venue managers told me that we were the most talked-about show in their region. It's just incredible.
One super-cool thing about the Midwest conference was its location: Grand Rapids, MI. I had never been there before, but it's a really nice city. Even better, the conference coincided with ArtPrize, a completely open visual art competition that awards $200,000 to the winner. It's now in its fourth year and (a) there was art literally everywhere you went and (b) the art museum there had the best collection of contemporary art I have ever seen under one room. For real. Even more amazing is that my old friend Dana Friis-Hansen now runs the art museum there! Definitely worth checking out!
The week after, I headed to Miami FL for the final booking conference, PAE. That very week, the tour continued to Wellington TX, and Lawrence and Manhattan KS. Last year in Lawrence about 700 people came out to see the show. This year, with the sequel, there were 1,300 in attendance! We had great turnout in Wellington and Manhattan and K-State has already committed to bring the sequel back in 2013!
Meanwhile, at the conference, we got to do it up at the Fontainebleu Hotel, which is the most swank hotel I've ever been too. Traffic was slow from venues, though we've got two in Miami looking at the show and a bunch of great venues in the Southern states. But then, I got to swim in the ocean each night after the floor closed, which was pretty priceless. Okay, I admit it, I'm living the life right now!
The next week (Sept. 29) the show headed to Bowling Green, KY, to a brand new venue called the Southern Kentucky Performing Arts Center (SKyPAC). It was a beautiful space in a really great town. The folks who ran the venue were incredible hosts and the show was super-well received. A contingent of arts students from a high school about 2 hours away came out and we chatted with them till long after the venue folks started cleaning up the lobby. Then, on the airplane home, I got recognized by a random Nashvillian who asked if we had performed in Nashville. I couldn't believe my ears, thinking that maybe he had seen us in Bowling Green. But no, he just recognized me and said he really wanted to see the show. How cool is that? Very!
This week (my birthday week) we head to Columbus OH and the extremely prestigious Wexner Arts Center. The tour continues HERE.