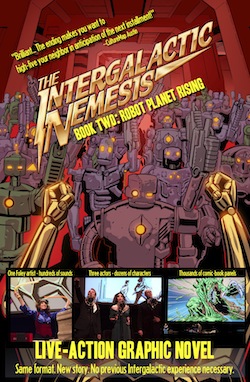 This past year has been just amazing. We started out on tour in Hawaii, played the New Victory on Broadway, sold out a run at the Kennedy Center, invaded Canada and Scotland, tore apart the West Coast and put it together again, and completely destroyed the middle section of the US in-between all that. Yeah, Zygonian world domination is just around the corner.
Of course, it wouldn't be possible without the complicity of so many venues and audience members. So thank you so much for supporting this little independent project and making it bigger. We've reached tens of thousands of people with the show and it seems pretty likely that we'll be reaching tens if not hundreds of thousands more in the upcoming seasons. You early adopters rock!
Speaking of upcoming seasons, the first half of 2014 is going to be a doozy. Check out the dates below and please let your friends and family know the Zygonians are coming!
Thursday, January 16, 2014 Book Two: Robot Planet Rising Maui Arts and Cultural Center – Castle Theatre Kahului, Hawaii
Friday, January 17, 2014 Book Two: Robot Planet Rising University of Hawai'i Performing Arts CenterHilo, Hawaii
Sunday, January 19, 2014 Book Two: Robot Planet Rising University of Hawai'i, Kennedy TheatreHonolulu, Hawaii
Friday, January 24, 2014 Book Two: Robot Planet Rising Victoria Theatre Dayton, Ohio
Saturday, January 25, 2014 DOUBLE FEATURE! Book One: Target Earth AND Book Two: Robot Planet Rising Clowes Memorial Hall Indianapolis, Indiana
Thursday, January 30, 2014 Book One: Target Earth PlayhouseSquare Cleveland, Ohio
Saturday, February 1, 2014 DOUBLE FEATURE! Book One: Target Earth AND Book Two: Robot Planet Rising University of Notre Dame, DeBartolo Center for the Performing Arts South Bend, Indiana
Friday, February 7, 2014 Book One: Target Earth Norton Center for the Arts Danville, Kentucky
Saturday, February 8, 2014 Book Two: Robot Planet Rising Earlham College Richmond, Indiana
Thursday, February 20, 2014 Book Two: Robot Planet Rising Centre for the Arts, Brock University St. Catharines, Ontario, Canada
Friday, February 21, 2014 Book Two: Robot Planet Rising Rose Theatre Brampton, Ontario, Canada
Tuesday, February 25, 2014 Book One: Target Earth The Fredericton Playhouse Fredericton, New Brunswick, Canada
Thursday, February 27, 2014 Book One: Target Earth Portland Ovations – Merrill Auditorium Portland, Maine
Friday, March 7, and Saturday, March 8, 2014 Book One: Target Earth OZ Arts Nashville Nashville, Tennessee
Friday, March 28, and Saturday, March 29, 2014 Book One: Target Earth Contemporary Arts Center New Orleans, Louisiana
Tuesday, April 1, 2014 Book One: Target Earth The Orpheum Memphis, Tennessee
Thursday, April 3, 2014 Book One: Target Earth The Hettenhausen Center for the Arts Lebanon, Illinois
Friday, April 4, and Saturday, April 5, 2014 Book One: Target Earth AND Book Two: Robot Planet Rising The Edison Theatre St. Louis, Missouri
Tuesday, April 8, 2014 Book One: Target Earth The Grand Wausau, Wisconsin
Thursday, April 10, 2014 Book One: Target Earth Weidner Center for the Performing Arts Green Bay, Wisconsin
Friday, April 25, and Saturday, April 26, 2014 Book One: Target Earth Artisphere Arlington, Virginia
April 28 – May 11, 2014 Book One: Target Earth Temple Theatre Des Moines, Iowa
May 26-31, 2014 Book One: Target Earth International Children's Festival St. Albert, Alberta, Canada
June 2-4, 2014 Book One: Target Earth Children's Festival of Saskatchewan Saskatoon, Saskatchewan, Canada